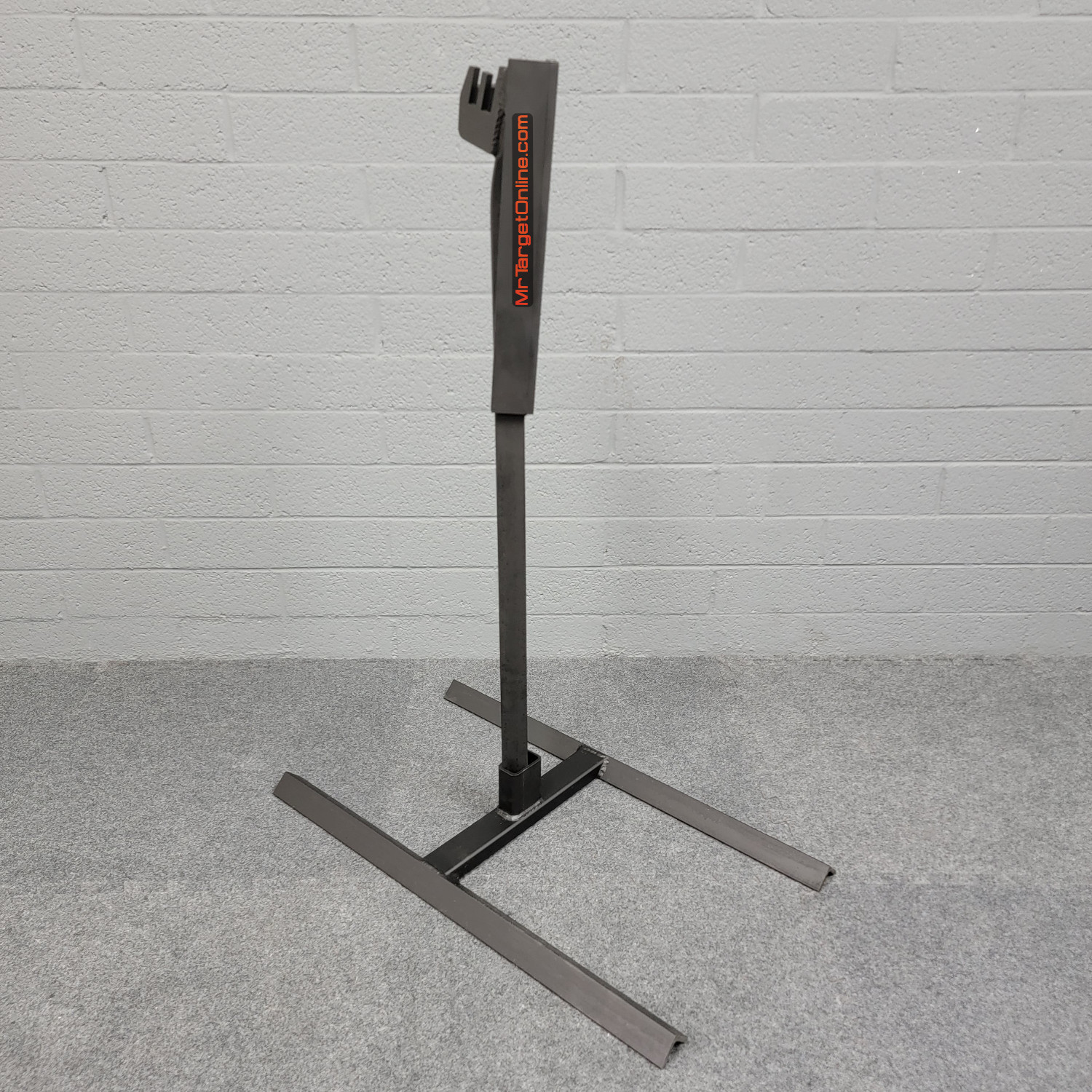 Tall Armored Base with 1/2″ Bracket for 1/2″ Targets
"THE PERFECT STAND" Armored Gong Stand – Double Gong
Quick Deploy – Modular Target Base System
$170.00 – $240.00
-
THE QUICK DEPLOY MODULAR TARGET BASE SYSTEM
The most state-of-the-art AR500 target base system in the world… the Quick Deploy system has been engineered from the ground-up for durability, portability, stability and speed.  Designed specifically for our QD compatible targets.
Virtually indestructible, the 2-piece high quality AR500 armored steel construction uses no welds, nuts, bolts, or tools and is able to withstand extreme abuse.  This base system lays completely flat when stored and assembles in seconds in the field. The AR500 plate "legs" have integrated carrying handles for ease of transport… or slide the entire target into your rifle bag.
NOTE: ** Target not included **
The secret to a good target is an excellent base (yeah, we trademarked that).  We recommend one of our modular armored bases for greatest ease of use, sturdiness, and reliability.  Our uprights pull right out of our H-bases allowing you to lay them flat in your truck, case, or bag and put them back together in seconds without tools.
Want a more permanent option? Pound the upright right into the ground or lay it in with some concrete.  The AR500 plating will protect your armored target base, deflecting thousands of pistol and rifle rounds (seriously, you'll be handing this thing down to your grandkids).
Want to shave off weight and save time?  Check out our Quick Deploy Base System specific to our QD compatible targets.  Two AR500 QD plates with integrated carrying handles and the ability to accommodate 1″ pipe extension legs to raise this target as high as you need. The pyramid-style base is designed to become more stable the taller you get.
And finally, while we always recommend splurging that little extra for one of our virtually indestructible armored bases, we do offer a "budget friendly" 2×4 base kit for the DIY backyard shooter.
| | |
| --- | --- |
| Weight | 25 lbs |
| Dimensions | 17 × 17 × 5 in |
| QD Target Legs | No Leg Extensions, 3' Leg Extensions |
You may also like…
THE KOOZER LOLLIPOP TARGET

Go head-to-head, train for zipper drills, or paint the paddles different colors and really put your brain to work!

Some ranges require the minimum target height to be at least 30 inches from the ground. Standard dueling trees do not meet this requirement, but the Koozer Lollipop is the solution!

The Koozer Lollipop is available in both pistol and rifle-rated* versions. All of our targets are made of the highest quality AR500 steel and can withstand thousands of rounds.

Accessory gongs are also available for this target. Try our Quick Deploy Base with 3′ legs and our 18″ AR500 gong for one beast of a target!

*For rifle calibers 5.56 and up, MR TARGET recommends a minimum 100y distance for safety and longevity of your target

$360.00 – $930.00

"QD IPSC" – 2/3rd Scale IPSC QUICK DEPLOY TARGET

The most state-of-the-art AR500 silhouette target in the world… the QD IPSC has been engineered from the ground-up for durability, portability, stability and speed.

Virtually indestructible, the 3-piece high quality AR500 armored steel construction uses no welds, nuts, bolts, or tools and is able to withstand thousands of pistol and rifle rounds*.  This target lays completely flat when stored and assembles in seconds in the field. The AR500 plate "legs" have integrated carrying handles for ease of transport… or slide the entire target into your rifle bag.

Combine the QD IPSC with the Magnetospeed T1000 Target Hit Indicator (sold separately) for a long-range target indicator that can be seen in daylight from over 1000 yards away!

*For rifle calibers 5.56 and up, MR TARGET recommends a minimum 100y distance for safety and longevity of your target.

$360.00 – $430.00

Paper Target Bracket – For Cardboard and Paper Targets

Made from 3/8" thick rifle rated AR500 steel, this static target works in all of our modular base systems. The Paper Target Bracket is designed to hold two 1″x2″ pieces of lumber (not included) at both 18″ and 24″ widths apart.  Attach a piece of cardboard (not included) between your 1×2's, and you're ready to go.

SUPPLIES NEEDED (not included):

1. Two 1″x2″ strips of lumber, length (height of target) is up to you

2. Piece of cardboard, or cardboard target, either 18″ or 24″ wide based on preference

3. Additional paper targets if you prefer to paste your paper target to your cardboard

4. Either a Staple Gun, Adhesive, or Office Binder Clips (recommended) to attach cardboard to 1″x2″s

$150.00 – $420.00