Standard Non-Armored Base for Throwing Targets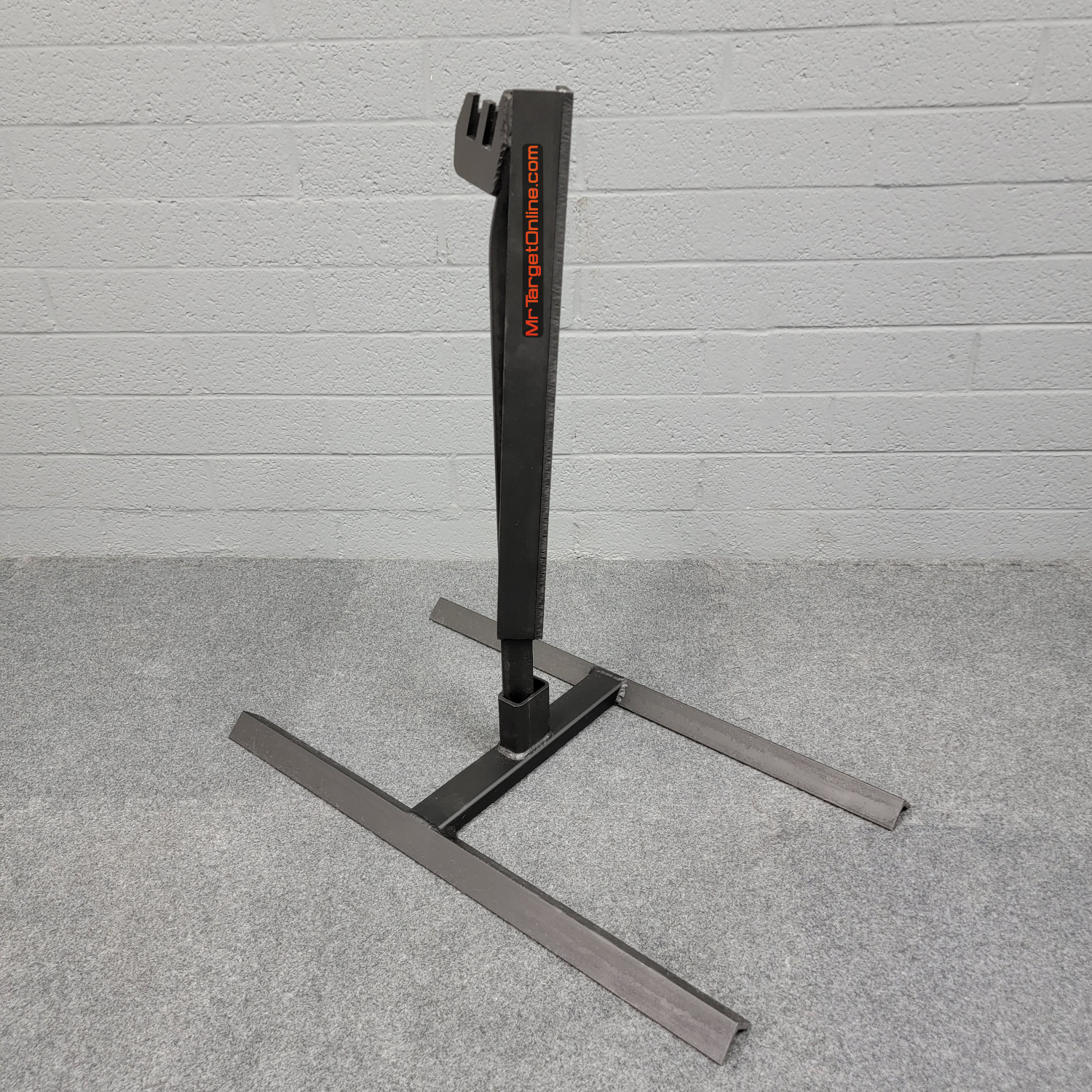 Fully Armored Range Base – Modular Target Base System
Armored Shortie Base – For Animal Targets
$220.00
-
ARMORED SHORTIE ANIMAL TARGET BASE

12″ tall
Designed specifically for our reactive silhouette animal targets, the Armored Shortie Base is rifle rated and is designed to place your animal target at the appropriate height level with the ground.
Explore our selection of animal targets HERE.
The secret to a good target is an excellent base (yeah, we trademarked that).  We recommend one of our modular armored bases for greatest ease of use, sturdiness, and reliability.  Our uprights pull right out of our H-bases allowing you to lay them flat in your truck, case, or bag and put them back together in seconds without tools.
Want a more permanent option? Pound the upright right into the ground or lay it in with some concrete.  The AR500 plating will protect your armored target base, deflecting thousands of pistol and rifle rounds (seriously, you'll be handing this thing down to your grandkids).
Want to shave off weight and save time?  Check out our Quick Deploy Base System specific to our QD compatible targets.  Two AR500 QD plates with integrated carrying handles and the ability to accommodate 1″ pipe extension legs to raise this target as high as you need. The pyramid-style base is designed to become more stable the taller you get.
And finally, while we always recommend splurging that little extra for one of our virtually indestructible armored bases, we do offer a "budget friendly" 2×4 base kit for the DIY backyard shooter.
| | |
| --- | --- |
| Weight | 23 lbs |
| Dimensions | 32 × 17 × 5 in |
You may also like…
BOBCAT – The ultimate predator hunting target.  Our life size bobcat has a reactive vitals shot and is made from 3/8" thick AR500 that is capable of handling rifle rounds up to 3,200 fps.  This self resetting target works in any of our H-style modular base systems and is completely interchangeable with all of our other targets.

Designed to work with all of our modular bases but will be closest to the ground with our "SHORTIE BASE".

NOTE:  All ANIMAL Targets may include a ~2-4 week lead-time.  To check on availability and approximate lead-time, please contact us before placing your order.

Dimensions: 36″ long x 22″ tall

SEE BASE DESCRIPTIONS BELOW

$290.00 – $510.00

SITTING COYOTE – The ultimate Predator Hunting Target – Life size Sitting Coyote with reactive "VITALS" shot.  Made from 3/8" thick AR500 and capable of handling rifle rounds up to 3,000 fps.  Designed to work with all of our modular bases but will be closest to the ground with our "SHORTIE BASE".

NOTE:  All ANIMAL Targets may include a ~2-4 week lead-time.  To check on availability and approximate lead-time, please contact us before placing your order.

$290.00

WILD BOAR – The ultimate predator hunting target – Life size Wild Boar/Hog with reactive "HEAD" and "HEART" shot.  Made from 3/8" thick AR500 and capable of handling rifle rounds up to 3,200 fps.  Designed to work with all of our modular bases but will be closest to the ground with our "SHORTIE BASE".

NOTE:  All ANIMAL Targets may include a ~2-4 week lead-time.  To check on availability and approximate lead-time, please contact us before placing your order.

$340.00 – $560.00