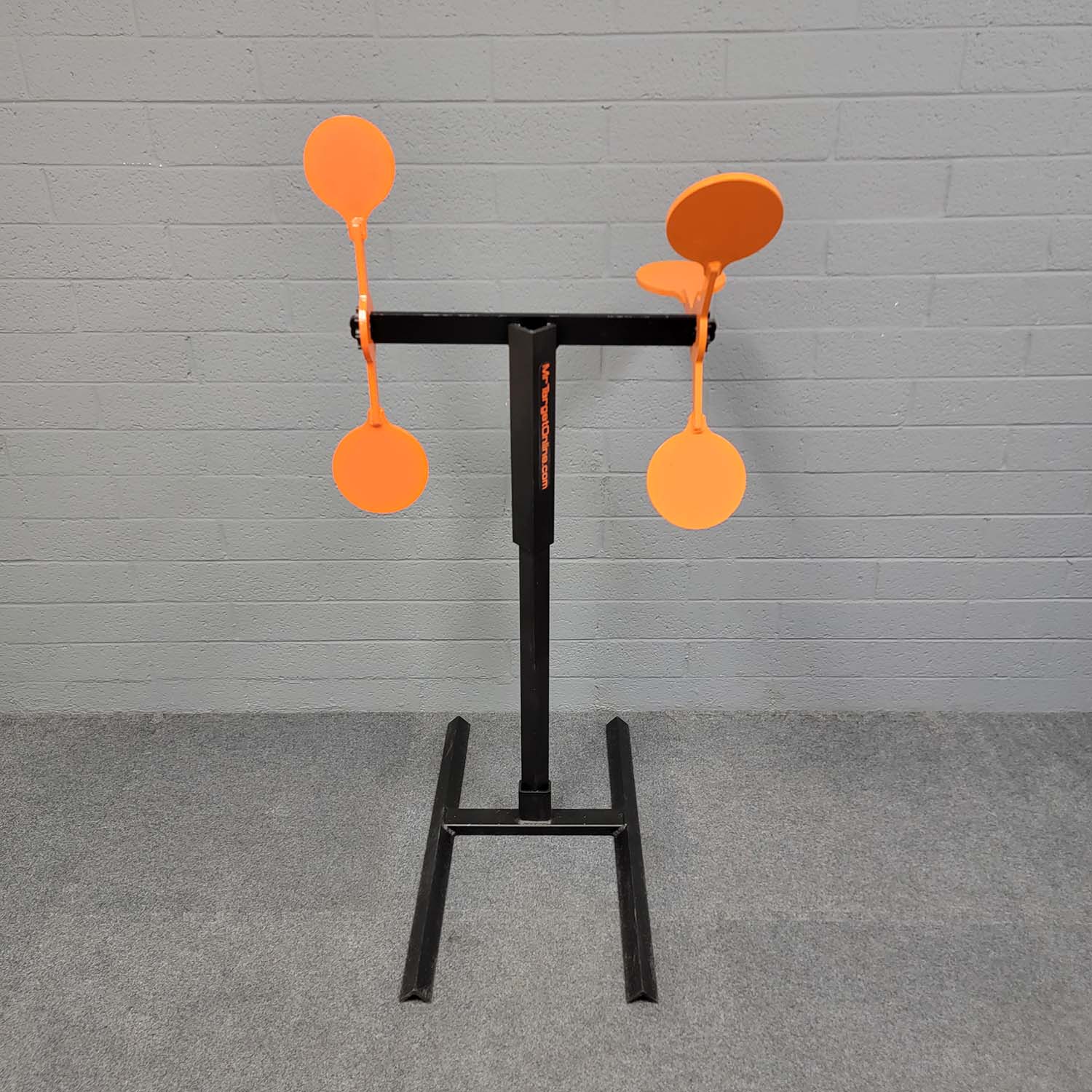 Dual Spinner – Armored Steel Reactive Shooting Target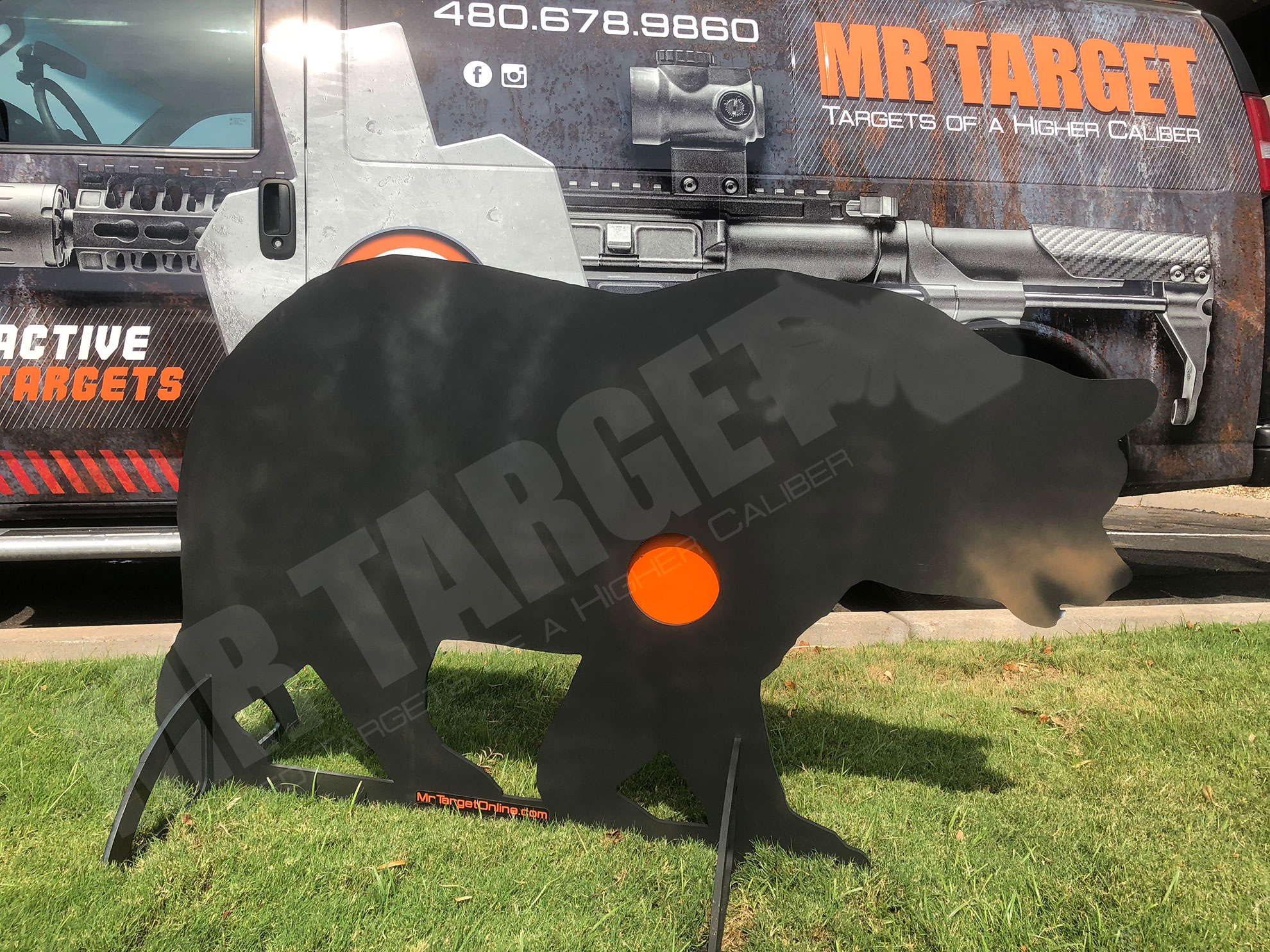 BEAR – REACTIVE ANIMAL HUNTING TARGET
Fully Armored Range Base with 1/2″ Bracket for 1/2″ Targets
$280.00
-
FULLY ARMORED RANGE BASE with 1/2″ BRACKET

Our 1/2″ bracketed bases are specifically designed for our 1/2″ thick AR500 targets, and include a standard 3/8″ accessory slot for our spinners, gongs, and other accessories.
Originally designed for permanent range installations at commercial facilities, the head-to-toe fully AR500 armored upright is designed to protect your base from all kinds of abuse.
All of our modular base systems are designed for easy setup and transport.  Just two pieces, (the upright portion and the H-style base) assemble together in seconds, and lay flat when disassembled.  Our modular target bracket has two available slots and is designed to accommodate any of our reactive or plate targets, along with an accessory rack for gongs, spinners, and other accessories.
If you are looking for a more permanent solution, simply remove the "H" base and pound the upright into the ground or pour concrete.
45lbs, 30″ tall, 1/2″ bracket slot in front for 1/2″ thick targets, and 3/8″ rear slot for 3/8″ thick standard accessories
The secret to a good target is an excellent base (yeah, we trademarked that).  We recommend one of our modular armored bases for greatest ease of use, sturdiness, and reliability.  Our uprights pull right out of our H-bases allowing you to lay them flat in your truck, case, or bag and put them back together in seconds without tools.
Want a more permanent option? Pound the upright right into the ground or lay it in with some concrete.  The AR500 plating will protect your armored target base, deflecting thousands of pistol and rifle rounds (seriously, you'll be handing this thing down to your grandkids).
Want to shave off weight and save time?  Check out our Quick Deploy Base System specific to our QD compatible targets.  Two AR500 QD plates with integrated carrying handles and the ability to accommodate 1″ pipe extension legs to raise this target as high as you need. The pyramid-style base is designed to become more stable the taller you get.
And finally, while we always recommend splurging that little extra for one of our virtually indestructible armored bases, we do offer a "budget friendly" 2×4 base kit for the DIY backyard shooter.
| | |
| --- | --- |
| Weight | 45 lbs |
| Dimensions | 33 × 17 × 5 in |
You may also like…
THE "MR TARGET"

This target is a 2/3rd scale solid IPSC plate.  One of our most popular targets, the MR TARGET IPSC is made of the highest quality AR500 steel and is able to withstand thousands of pistol and rifle rounds*.  Our targets assemble easily and use no nuts, bolts, or screws.  The MR TARGET IPSC comes apart in seconds into 3 easily transportable pieces (H-base, upright center stand, and target plate) and will lay flat in the backseat.

*For rifle calibers 5.56 and up, MR TARGET recommends a minimum 100y distance for safety and longevity of your target.

ALSO AVAILABLE in a 1/2″ THICK VERSION – higher durability for close-quarters / law-enforcement rifle work, or for larger rifle calibers.  NOTE: 1/2″ Thick targets require our 1/2″ Thick Bracketed Fully Armored Base for proper mounting.

$200.00 – $560.00

IPSC Flapper

Flip the Flap, Then shoot through the hole as fast as you can!

This is a 2/3 scale IPSC plate made of 1/2″ THICK AR500 able to withstand thousands of rifle and pistol rounds*.  This target has a 9" reactive flapper that flips up when hit.  This unique target gives the shooter the challenge of knocking the flapper and then shooting through the aperture to hit another target beyond – using two or three VERY quick consecutive rounds.  A highly engaging training target.

*For rifle calibers 5.56 and up, MR TARGET recommends a minimum 100y distance for safety and longevity of your target

NOTE: This 1/2″ AR500 Target requires our 1/2″ Armored Base for proper fit.

$300.00 – $580.00

THE "MINI MR TARGET"

This target is a 1/2 scale (50%) IPSC plate – the "mini" version of our classic "MR TARGET" 2/3rd scale IPSC.  This target is made with high quality 3/8" thick AR500 steel able to withstand thousands of pistol or rifle rounds*.   Ideal for rifle training or IDPA.  This target is also reversible…flip it over for a freshly painted side.

*For rifle calibers 5.56 and up, MR TARGET recommends a minimum 100y distance for safety and longevity of your target.

ALSO AVAILABLE in a 1/2″ THICK VERSION – higher durability for close-quarters / law-enforcement rifle work, or for larger rifle calibers.  NOTE:  1/2″ Thick targets require our 1/2″ Thick Bracketed Fully Armored Base for proper mounting.

$160.00 – $470.00