Sniper – Armored Steel Reactive Shooting Target
Large Hostage "The NICKO" – Armored Steel Reactive Shooting Target
Super Sniper – Armored Steel Reactive Shooting Target
$240.00 – $510.00
-
SUPER SNIPER
This is a solid 3/8″ AR500 silhouette with a tactical "eyes/nose" head-shot triangle for the master marksman, as well as a 6″ center mass paddle.  Ideal for rifle beyond 100 yards, or to test your limits with pistol at 10 yards and out.  Able to withstand thousands of pistol and rifle rounds.*
*For rifle calibers 5.56 and up, MR TARGET recommends a minimum 100y distance for safety and longevity of your target.
This is a solid 3/8" AR500 silhouette with a tactical "eyes/nose" head-shot triangle for the master marksman, as well as a 6" center mass paddle.  Ideal for rifle beyond 100 yards, or to test your limits with pistol at 10 yards and out.  Able to withstand thousands of pistol and rifle rounds.*
*For rifle calibers 5.56 and up, MR TARGET recommends a minimum 100y distance for safety and longevity of your target.
The secret to a good target is an excellent base (yeah, we trademarked that).  We recommend one of our modular armored bases for greatest ease of use, sturdiness, and reliability.  Our uprights pull right out of our H-bases allowing you to lay them flat in your truck, case, or bag and put them back together in seconds without tools.
Want a more permanent option? Pound the upright right into the ground or lay it in with some concrete.  The AR500 plating will protect your armored target base, deflecting thousands of pistol and rifle rounds (seriously, you'll be handing this thing down to your grandkids).
And finally, while we always recommend splurging that little extra for one of our virtually indestructible armored bases, we do offer a "budget friendly" 2×4 base kit for the DIY backyard shooter.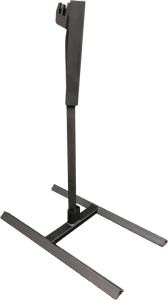 TALL ARMORED BASE (RECOMMENDED)
Standing at 40" tall, this target base will raise your target to a more natural shooting position to promote muscle memory for close quarters training. This base has an armored center post to withstand thousands of rifle and handgun rounds.
This target base is armored from top to bottom. Great protection for long range rifle, commercial ranges, rental targets, and FULL AUTO. No stray bullets will be punching holes in this base. 30″ tall.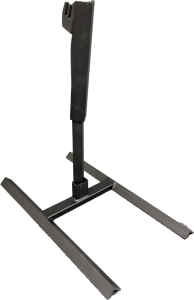 This base has a low-profile armored center post that withstands every kind of abuse and will work with any of our reactive or plate targets. 30" tall.
For shooters with a tight budget, we offer our 2×4 base and bracket kits. Steel base and top bracket protected by an AR500 armored circle plate. Choose Top Bracket only or Top Bracket & H Base combo. (2X4 NOT included)
Your MR TARGET armored target base includes a dual bracket for mounting your SUPER SNIPER target and one of our MR TARGET accessories, such as THE 2 GONG RACK (shown here with 4",5", and 8" gongs). Just select "I already have a base" from the drop down options, and choose your gong sizes.
Convert your SNIPER target into a .22 rimfire target with our .22 RIMFIRE PADDLES. Our paddles are plug-and-play and remove easily with no nuts or bolts, enabling you to swap calibers in seconds.
Need a bulk order for your range?  MR TARGET offers RANGE DESIGN services, TARGET INSTALLATION services, and GRANT WRITING ASSISTANCE.  CONTACT US for more information on outfitting your range.
Love your MR TARGET targets?  Have some badass photos or videos of you and your friends shooting, competing, torture testing, or just going wild?  Share them with us on social media or email a copy to [email protected]. 
Leave us a note and let us know what you think, and we'll include your comments in our testimonials.
Connect us with your favorite dealer, social media influencer, or organization!  And as always, keep an eye out for more awesome products and designs coming down the pipe.
| | |
| --- | --- |
| Weight | 27 lbs |
| Dimensions | 30 × 15 × 3 in |
| Base Type | 2×4 Bracket & Base, 2×4 Bracket Only, No Base, I already have a base, Armored Base, Fully Armored Range Base, Tall Armored Base |